Show the ocean some extra love! Saturday, June 8th is World Oceans Day, a day for people to celebrate, honor, and help protect the ocean, which connects us all.

Don't want to read? Have a listen!
"World Oceans Day is the perfect chance to shine the spotlight on the ocean and to celebrate the many ways that oceans sustain people and our planet," said Jack Johnson, Musician, Surfer and Environmental Activist in a press release. "We can all take action on World Oceans Day, joining youth leaders and a global movement, to come together in support of healthy and plastic free seas."

Like a heart for Planet Earth, the ocean is important in:
Generating most of the oxygen we breathe
Helping feed us
Regulating our climate
Cleaning the water we drink
Offering a pharmacopoeia of medicines
Providing limitless inspiration!
This year, Surfrider is partnering with Love Beauty Planet to co-host 27 beach cleanups with over 2,000 people nationwide to remove waste from our coastline with the hopes of inspiring positive personal habits to support a healthy ocean. To find a cleanup near you click HERE!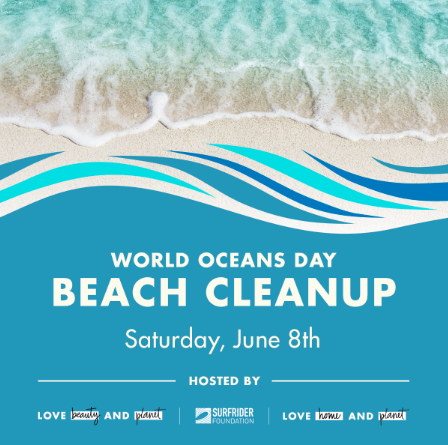 Can't make it to a beach cleanup? Here's a few other ways to get involved!
Change perspective – encourage individuals to think about what the ocean means to them and what it has to offer all of us with hopes of conserving it for present and the future generations.
Learn – discover the wealth of diverse and beautiful ocean creatures and habitats, how our daily actions affect them, and how we are all interconnected.
Change our ways – we are all linked to, and through, the ocean! By taking care of your backyard and helping in your community, you are acting as a caretaker of our ocean. Making small modifications to your everyday habits will make a difference, and involving your family, friends, and community will benefit our blue planet even more!
Celebrate – whether you live inland or on the coast, we are all connected to the ocean. Take the time to think about how the ocean affects you, and how you affect the ocean, and then organize or participate in activities that celebrate our ocean.