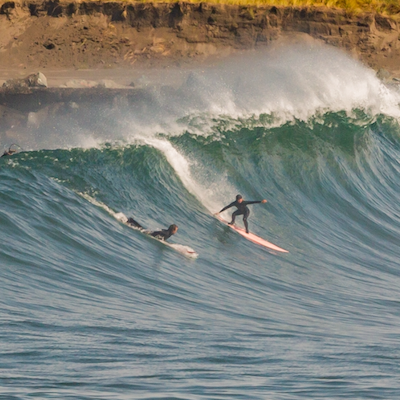 On this week's episode of Protect & Enjoy, Surfrider's California coast and ocean policy podcast, we have a simple way to swap out plastic for the holidays, a truly shocking factoid about roly poly bugs and an update about how Orange County Parks is failing to protect one of Orange County's most beloved beaches – this is the kind of story that we hear playing out up and down California's coast as we adapt – or don't – to sea level rise.
Ultimately, in so many places, we'll either have sand to stretch out on or a wall where we can stand and look at what used to be a beach. As always, how things play out at the California Coastal Commission hearings offer an understanding of which way we're heading.
(To read how the OC Parks/Capo Beach item shook out, see this story in the OC Register.)
In short, state leadership desperately needs to fast-track meaningful sea level rise adaption regulations and goals instead of this piecemeal approach at state agencies, but until then, Surfrider will keep on fighting beach killing projects one at a time.
In other news, continued evidence of how connected everything is sure makes us grateful for all the chapters and affiliates Surfrider has all around the world. In addition to working for positive change on the global, national, statewide and local levels, Surfrider encourages everyone to make the changes we can in our own lives. Olivia Angus (aka Olivia for the Ocean) offers advice on how to make better choices, for yourself and the planet – easily! This week, Olivia focuses on a holiday habit that often creates a lot of waste but doesn't have to.
While many of us will be taking a break for the holidays, Surfrider's staff and vast network of activists is always keeping an eye on what's happening along our beaches and leaping into action whenever needed. If you're already a member, thank you for your support. If you're not a member, this is a great time to solve that problem. On this week's episode (and in the links below), Delia shares some of our hottest membership deals before taking off on a big wave backpacking trip.
Thanks to all of you who have joined and otherwise supported Surfrider! And if you haven't listened to Protect & Enjoy yet, please do! And then rate, review, subscribe and share! We greatly appreciate it.
Logo courtesy Rick Erkeneff of Surfrider's South Orange County chapter. Jingles by the Dronkers family. Music via Portugal the Man.
Note: This is our final P&E for 2020 – we'll be back Jan. 12, 2021.
Stay safe and well out there!
Podcast links