This #WildlifeWednesday, we're highlighting Northern Elephant Seals! Did you know, as adults, these behemoths can reach up to 16 feet long and weigh 5,000 lbs/ 2269 kg? They are able to make long dives to more than 5000 ft deep, holding their breath in search of prey.
Late November marks the end of the ""Fall Haul Out"" for juveniles and the arrival of adults to California beaches, beginning their annual breeding season.
Don't miss your chance to view these marine mammals and maybe even see epic fights between alpha males next to many marine protected areas (MPAs) including Point Reyes Headlands State Marine Reserve (SMR), Año Nuevo SMR, and Piedras Blancas SMR. Be sure to keep your distance! Many areas have special closures in place to protect these marine mammals. Know the rules before you go!
View the Safe Viewing Guidelines and get more information about your local marine mammal rescue initiatives.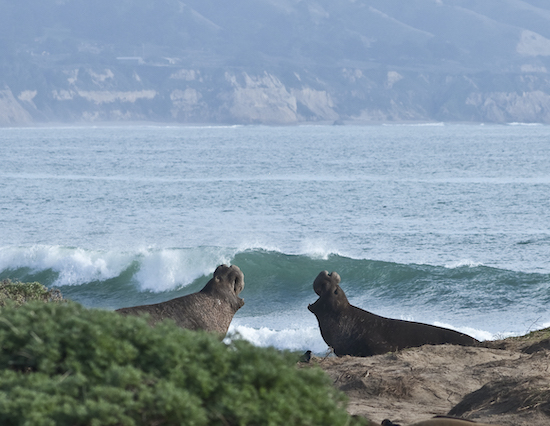 Be part of your local MPA stewardship efforts!
Looking for ways to engage with marine protected area (MPA) management at the local level? Check out the MPA Collaborative Network!
A networking, information and resource sharing structure, the MPA Collaborative Network comprises 14 collaboratives that care for the coastline and include over 385 organizations and 600 individual members. The MPA Collaborative Network fosters local stewardship to help manage California's 124 MPAs by bringing together a wide range of ocean experts.
Utilizing the diverse perspectives of participating members, local collaboratives make vital contributions to the management of MPAs through 1) Outreach and Education, 2) Enforcement and Compliance, 3) Research and Monitoring.
Check out this short video to learn more:
Surf no good? Try kayaking!
If you haven't tried coastal kayaking yet, we recommend kayaking in one of our state marine protected areas (MPAs) – they are prime for exploration!
Across the state, there are many incredible spots to kayak. While Van Damme and Edward F. Ricketts State Marine Conservation Areas (SMCAs) offer open water kayaking, Drakes Estero and Upper Newport Bay SMCAs provide calm inland waters to paddle. Wherever you decide to launch, you're sure to see plenty of marine life and birds!