With the help of Surfrider Foundation's grassroots activists, the passage of AB 1276 last year requires food facilities to provide single-use plastic foodware accessories and packaged condiments only upon request. In other words, food facilities cannot give out single-use plastic items such as utensils, chopsticks, packaged condiments, straws, stirrers, splash sticks, and cocktail sticks without customers asking for them.
The pandemic has emphasized the need for AB 1276. We are still experiencing an influx of people ordering takeout, leading to more single-use plastic waste, especially utensils and condiments. Disposable foodware accessories contributed to 250-300% increase in single-use plastics and a 30% increase in waste since the pandemic started. AB 1276 addresses this problem and ultimately reduces plastic pollution in our communities and on beaches.
Questions remain about the bill and how to implement it. For instance, local governments must identify an enforcement entity by next month, June 2022, and are seeking guidance for this effort. Numerous municipalities have also passed ordinances similar to the statewide law before the passage of AB 1276 and it can be unclear how the state and local laws integrate. Due to the many questions surrounding this law and implementation, the Surfrider Foundation and the Clean Seas Lobbying Coalition held a webinar geared toward local government staff.
The webinar provided guidance (not legal advice) on implementing AB 1276 and shared resources on how best to abide by the law if local governments already have an existing ordinance or if they do not have one. Outreach strategies and how to best support food facilities that must comply with the law were also covered. AB 1276 is considered a floor, and local governments are encouraged to adopt stronger ordinances going beyond the requirements in the statewide law.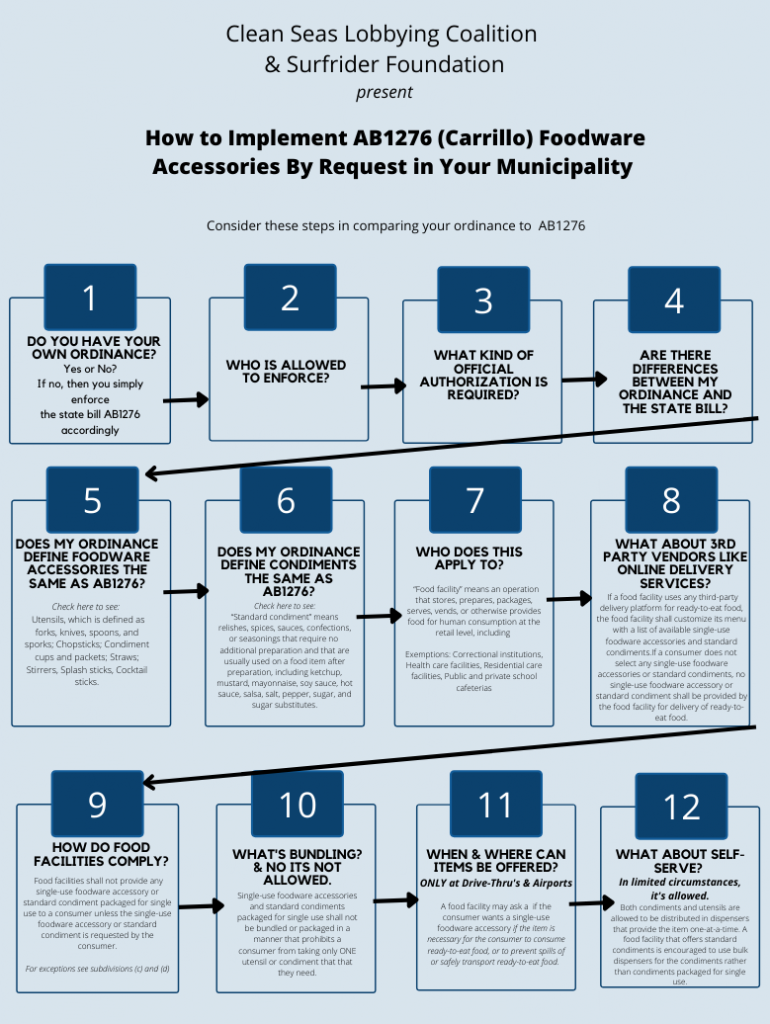 Surfrider's Ocean Friendly Restaurant (OFR) program provides real-world examples of how restaurants are successfully implementing AB 1276. These OFRs are even going beyond by adopting sustainable practices like offering only reusables for dine-in. Restaurants save money, consumers avoid getting what they do not want or need, and reduce single-use plastic waste that pollutes our communities, gets incinerated, or goes to the landfill (very little is actually recycled).
Similar to when the statewide bag ban went into effect, education and outreach will be critical to ensure successful implementation. Surfrider and the Clean Seas Lobbying Coalition will continue to support and provide resources for local governments as they navigate putting this new law into place. Click here for the webinar recording and other available resources.