2021 brings a renewed sense of commitment and urgency in continuing to fight against plastic pollution. The Surfrider Foundation's Plastic Pollution Initiative recognizes that plastic pollution is not only an environmental issue but a social and racial justice issue. Now more than ever, we need to take concrete steps to address this crisis, and we're making tangible changes at the state and local levels.
Reflecting on the past six months, Surfrider has achieved 47 victories nationwide, and over half of them focus on plastic pollution. In California, we've achieved seven victories this year so far at the local level. And statewide, all four plastic pollution bills that we are strongly advocating for are still up for consideration and will be voted on by legislators to become laws by September 10.
Notably, there is interest in addressing the influx of single-use plastic foodware accessories such as utensils, straws, and condiments at both the state and local levels. This influx can be attributed to an increase in takeout and delivery because of the pandemic. Foodware ordinances that require customers to "opt-in" to foodware accessories or #SkiptheStuff campaigns are showing up all over the state. These ordinances are a commonsense solution. Restaurants save money, consumers avoid getting what they don't want or need, and they help reduce single-use plastic waste that pollutes our communities, gets incinerated, or goes to the landfill (very little is recycled).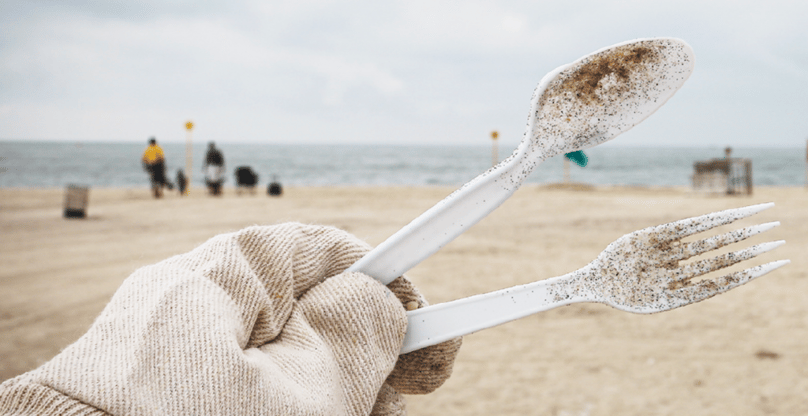 Through the hard work of our local chapters and allies, Los Angeles City and County, Vista, Laguna Beach, and Dana Point have all successfully passed ordinances to reduce single-use plastic foodware accessories this year. Culver City also passed a #SkiptheStuff ordinance and takes it one step further by requiring reusable foodware for dine-in restaurants and bans single-use plastic water bottles at city facilities. San Francisco is also looking to advance a bold policy that goes beyond the #SkiptheStuff ordinance. If passed, this ordinance would require reusable cups, plates, and cutlery when customers sit down to eat at a restaurant and a 25-cent charge per take-out cup and food container (which may be kept the food vendor to use for more sustainable options).
State legislators are also considering AB 1276, a similar bill that would expand the straw upon request law to include other single-use food accessories to be provided to consumers only upon request. Surfrider is also strongly advocating for AB 881, AB 962, and SB 343 - bills that address unfair practices of exporting mixed plastic waste, creates a statewide refillable bottle system, and truth in labeling for recyclable materials, respectively.
We can use your help to urge your legislators to pass these critical bills! Sign all four action alerts here (you'll have to sign each action alert individually by clicking the "action alert" link for each bill).
Finally, the California Recycling and Plastic Pollution Reduction Act has officially qualified for the 2022 ballot! A vote for the initiative will reduce plastic pollution, restore and protect environments harmed by plastic pollution, and increase recycling. The initiative also includes a unique provision called Extended Producer Responsibility or EPR. EPR laws can lead to significant reductions in single-use plastic because the producers bear the responsibility for the cost of recycling, waste disposal, and cleanup of their packaging. This initiative will charge a maximum of one-cent per item fee on plastic packaging and foodware manufacturers, incentivizing producers to create more sustainable packaging to reduce costs. This funding would go towards plastic recycling and environmental cleanup of plastic pollution.
We will continue to help develop and promote critical policies at the state and local levels to address plastic pollution and are looking forward to all the strong policies that we will pass during the second half of 2021. Keep up to date and make your voice heard by visiting our California Surfrider website, campaign page, action alert page, and Protect and Enjoy podcast.