Chapter Update // Fun day in Santa Monica
We had an amazing day last week in Santa Monica celebrating Nick Gabaldon with Surfrider / West Los Angeles / Malibu, Black Surfers Collective, The Surf Bus Foundation, Heal the Bay and Santa Monica Conservancy. Nick Gabaldon was the first documented surfer of African-American and Mexican descent, at the historical African American beach site, sometimes formerly called the "Inkwell". Gabaldon's legacy has inspired many surfers of color and many consider him as a role model. Here's a recap of the day.
June Coastal Commission Update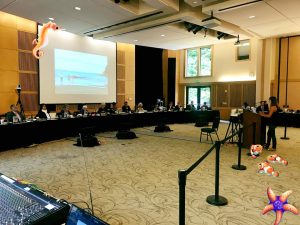 The June California Coastal Commission meeting was in the North Coast at Humboldt State University. To honor #WorldOceansDay, Surfrider Humboldt chair and Northcoast Environmental Center MPA Coordinator Delia Bense-Kang spoke to the commissioners about a super cool science program run by Trinidad Elementary school. With leadership from Stephanie Strasser Goldstein and Jana Litt, students applied to study sea star wasting disease. (And onWorld Oceans Day!)
Chapter Update // Long Beach Breakwater Awareness month
Did you know that Long Beach used to be considered the Waikiki of California with fun waves and a great surf culture? Let's bring it back! Read more here.
Policy Update // Polystyrene Ban
We wanted the state as a whole to step up, but in the meantime, our cities and counties must continue to lead the way! Read the full story here.
Policy Update // AB 250 -Lower Cost Accommodations Bill
AB 250 moves on to the senate! "It's increasingly hard to take a beach vacation on a budget in California. Hotel prices continue to rise along with demand, while options for lower-cost accommodations are scarce along much of the coast." Read more here.
Policy Update // AB 1129 - Coastal Protection bill
We have no time for short-sighted planning – California's very identity is at stake! Read our recent op ed in the OC Register here.
Policy Update // Blog update on the Tijuana River Sewage Spill
Back in February, it is estimated that between 140-256 million gallons of raw sewage from Mexico spilled out of the Tijuana River and into the Pacific Ocean. Since then, six more smaller spills of raw sewage have been reported over the past four months.
Despite this ongoing harm to our public beaches, federal and state authorities have failed to engage in any clean-up efforts. We must urge our elected officials to get involved and make it their mission to protect and preserve this beautiful coastline.
Policy Update// Coastal Commission Appointments
Speaker Rendon announced Coastal Commission appointments. Chula Vista City Councilmember Steve Padilla will replace Greg Cox and Commissioner Carole Groom was reappointed! We are optimistic that these appointments will continue to improve the Commission. Read more here.